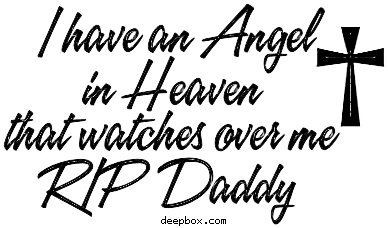 I don't want to make people sad but I feel this is the best place for me to write and get things off my chest that bug me sometimes. Tomorrow Sept. 8 will mark 14 years that my dad has past. Growing up I never knew my dad because I was taken from him at a very young age. He was put into jail when I was only 7 years old and that was the last time I seen him until Sept. 10 1997 when I had to go and look at my father cold lifeless body. That is a very hard thing for a 10 years old to go through. To me what made it the hardest was the fact he pasted just a week before my 11th birthday. For the past 14 years I have looked to people in my family for answers to some of the questions I have grew up wondering but still have not answers for, and some the answers I wish I never knew about my father. It is hard a girl to have to grew up with a father and it made it wroth that I never had a mother either (but she is a different story in a different time).
After losing my father, I lived with my grandmother still until she too past the year after my father had. It seem like the years of 1997 and 1998 changed my life the most. After losing to very important people in my life I went through this really rebel like stage where I did not want to listen to no one and thought everyone was wrong. I soon learn my ways was going to get me into a lot of trouble. I sit and think back to if only my dad would have never went to jail I wonder if he would still have died. The one thing that makes me wonder all this is sitting watching my two boys growing up. I wonder what my daddy would say about his grandson's and wonder what he would say about his baby owning her house and doing all the things that make her happy. The one thing that really gets to me is knowing that my big sister is getting married in April and how i know she wishing our daddy was here for her big as I would want him if I was to ever get married. But I hold my head as each day goes by I know I will get stronger and will be able to face everything with my daddy beside me. I know he watches over me and is always here for me.
If roses grow in heaven lord, then pick a
bunch for me. Place them in my Dad's
arms and tell him they're from me. Tell
him that I love and miss him, and when
he turns to smile, place a kiss upon his
cheek and hold him for awhile.
R.I.P. Daddy we love and miss you so very much. Can't wait
to see you again some day.