****Warning this post has links and photos that are for adults only. The site is an over the age of 18 site. So, please if you are comfortable with this type of thing do not click on no link or photos.*****
EdenFantasys
now has a
Wedding Shoppe
. Head on over and make you marriage a Sexy Ever After. There are products to fill any ones needs in the bedroom. Make you husband a happy man and give him the best happy ever after he could only dream of. There is things for the Bride, the Groom, Newlyweds, and even some sexy lingerie for any night including your wedding night.
What his dreams come true the night of your wedding by getting something that no one has even seen but him, even tho we all know it won't be on long at least it will give him something sexy to look for a little bit. We all know how them wedding nights can go. You can even create your own gift registry just by click here:

EdenFantasys
is always coming out with new products all the time as well as new lingerie. So, I am sure there is something in there will work for any day of the year. You don't just have to buy thing for the wedding night because we all know the stories about when you get married the love life dies. Well, don't let it die, spice it up and make it new. EdenFantasys has everything to make you married sex life something you don't want to lose. Keep it new and spiced up by getting new stuff. It is a simple as clicking on the links here or even the photos to take you right to EdenFantasys.
Here is a few of thing you can get:
For The BRIDE:
Club Vibe 2.OH
–
vibrating panty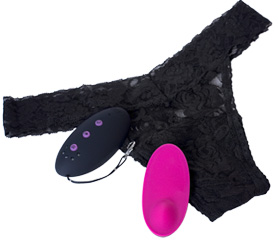 Flirty little favorites
–
scrub
Black band stainless steel cock ring
–
cock ring
ID Him lubricating cream unscented
–
lubricant
Sale price:

$11.24

In stock

List price:

$14.99

You save:

$3.75
For the NEWLYWEDS:
Sexual positioning sex sling
–
sling
Our Price
System JO 2 to Tango pack
–
lubricant
Sale price:

$18.74

In stock

List price:

$24.99

You save:

$6.25
So head on over to EdenFantasys for all you love life needs for you wedding night and marriage.