Transform NEGATIVE into POSITIVE:
Join the countless families who have discovered for themselves how the simple, reusable, affordable and FUN job &chore flow charts and kits from Creative Changes can make all kinds of family and household chores, homework, school projects, and more, suddenly manageable and appealing, instead of discouraging and daunting.
Our kits and components are well thought-through and designed, right down to the step-by-step workbooks, and priced so reasonably that they'd be a bargain even if they weren't reusable – components like Write-on Wipe-off Surfaces, wipe-off crayons and crayon holders, are just part of the Creative Changes philosophy, that everyday habits and practices should be as convenient and practical as possible.
Whether it's school job charts or kids chore charts, children just naturally gravitate to the static-cling colorful self-adhering static-cling stickers and magnets that make accomplishing the routine seem creative and rewarding.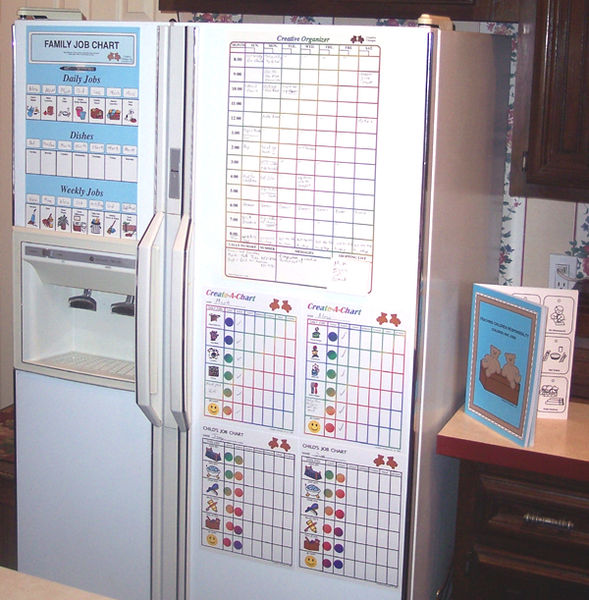 Creative Changes Inc.: Our Motivational & Organizational Job Charts & Stickers for Kids actually transform WORK into PLAY!
--Attitudes aren't as positive as they could be?
--Kids don't want to help?
--Chores/homework not getting done?
My kids are not really old enough for me to use these charts for them yet but my brother-in-law and his girlfriend just moved in so I put the charts up to help us to keep up with who will do what on what day in the house. Also, so that we all can keep up with when each other has to work, when I have photo session, or when I have to take either one of my boys to any of their special doctors. Since putting up the charts we have gotten along at lot better about cleaning the house and everything. I love these charts and can't wait till my boys are old enough to use them for all their daily duties.