Some facts taken from Pambra's websites:
Patent Pending
Made from the same quality materials as our Original liners, the Tummy liner is designed to absorb perspiration under the abdominal fold. It helps to eliminate any embarrassing odor. The Tummy Liner is doctor recommended, "Pambra's have also been used in abdominal skin folds to prevent or treat the Intertigo found in those locations."
Suggestions:
It is recommended that the abdominal area be cleansed and dried thoroughly. For best results, place a clean Pambra's tummy liner on with an undergarment. As with any heat or unknown rash, always consult with your physician. Check with your physician for after surgery in the tummy area.
Uses:
Perhaps you carry some extra weight in the abdominal area,

You've had a Gastric Bypass surgery and not ready for your tummy tuck,

You know a loved one that is bedridden,
… Then a Pambra's Tummy Liner is for you!
The tummy liner is to be placed under the abdominal fold and then your undergarments over it.
SIZES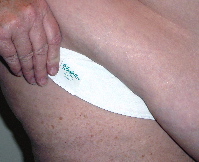 Measure under tummy before ordering- All liners are 3" wide.
Small- 20" long
Medium- 24" long
Large- 28" long
X-large- 32" long
XX-large- 36" long
How-to Properly Measure:
Using a measuring tape, measure up and under the tummy fold from one hip across to the other. DO NOT measure all the way around your stomach area. Do not measure on top of the tummy. Measure the area that the liner intended to cover.
* The Original Tummy Liner is only available in White, 3 liners per package!
Easy Care
Shell is 65% cotton/ 35% polyester, inside 100% Cotton. Machine washable warm, tumble dry low. No bleach.
The Truth's Thoughts:
The Pambra's Tummy Liner is something I wish I would have had when I had my oldest son by c-section. I know the tummy liner would have helped me out a lot with the sweating and keeping the cut clean during those few weeks. I wore my tummy liner for a day with doing all my daily mommy things of cleaning the house, chasing the kids, and doing my Zumba on my PS3. When the day came to the end I went to take a bath, now usually at this point I have a raw spot where my belly hang over, it always happens because the over lap is pushed against my body all day by my pants. Well, when I took the tummy liner off their was not spot. I was so happen because them raw spots put me in a lot of pain when the water hits them. Now I wear my tummy liner when I do my Zumba because that is when I sweat most during the day. Now as far as my husband he wore one to work and lets just say I hated to wash that liner. He works in a factory and sweats like crazy even when it cold outside, so needless to say I don't let him wear my liners no more.
This product was send to me free of charge for me to use and review on this blog. I was not paid by the company for anything just got the product for free.